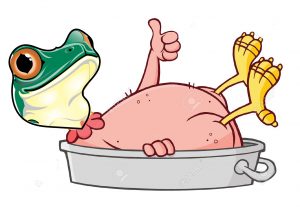 The BC government reached a deal with the Blueberry River First Nations to redress past treaty infringement, and keep most of existing industry going. In other Business news: Biden restores 3 national monuments cut by Trump; Sierra Pacific finalizes its acquisition of Seneca; and a law banning foreign logging truck drivers in Maine is challenged. On the market front: stumpage prices make the BC Interior a high-cost producer; a Timber Exchange panel pontificates on the North American timber market.; and Forbes on US housing.
In Forestry/Climate news: Bob Brash says it time we start talking to each other; David Suzuki says its time to start healing the wounds; US forests owners are encouraged to store more carbon; EU groups seek to end the status of biofuels as 'renewable'; and some of California's sequoias are seared by recent wildfires.
Finally, it's Thanksgiving in Canada and the frogs will be off Monday celebrating with their armies and colonies.
Kelly McCloskey, Tree Frog Editor