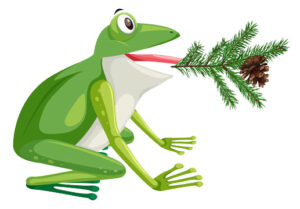 Fibre-based food packaging is an opportunity for the pulp and paper industry, as evidenced by Paper Excellence's recent Port Alberni, BC investment. In other Business news: the pandemic continues to drive housing, with upsides for sustainable wood production. Companies in the news include: Norbord (shareholder considerations on West Fraser bid); Kalesnikoff (mass timber expansion); and Fibre Excellence (pollution trial).
In other news: identifying Canada's conservation hot spots; repurposing military equipment to fight wildfires in the US; California wildfire emissions' (GHG) car-equivalent; Austria's close-to-nature fire management approach; and a research breakthrough in support of chlorine-free biomass production. On the Safety front: forest service road safety in BC; a logging truck collision in the BC Interior and a 15-car lumber derailment in Oregon.
Finally, feeling snacky? Check out these recipes on "how to eat your Christmas tree".
Kelly McCloskey, Tree Frog Editor