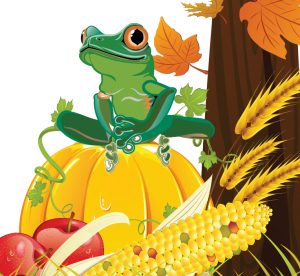 It's a quiet news day on the eve of US Thanksgiving. On the Business front: no resolution yet on the US railway unions vote; FPAC's Nighbor seeks support for wood in government procurement bill; a fire is reported at Cherry River Lumber in West Virginia; US housing sentiment falls; and lumber prices stay flat. Other updates include: SFPA's safety awards; Wood WORKS! Alberta's wood solution fair; SFI's latest newsletter; Arbor Day Foundation's urban forests world forum; the Federation of BC Woodlot's fall update; and the latest issue of the Dust Safety Journal.
In other news: COP27 boosts carbon trading; carbon pricing comes to the Maritimes; the conditions for success for bioenergy with carbon capture & storage; early wildfire detection sensors tested in Europe; and a redux on the before and after photos of BC old-growth.
Finally, a happy Thanksgiving to our US readers.
Kelly McCloskey, Tree Frog Editor