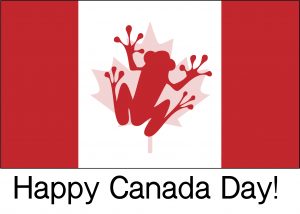 The Montreal Economic Institute says financial repercussions of softwood duties are 26 times greater for the US economy. In other Business news: CP Rail ratifies three labour agreements; Cascades wins Best 50 Award; International Paper releases sustainability report; Portland International Airport raises new wood roof; and Sappi North America rolls out a Girl Scouts science patch.
In Forestry/Climate news: Canada funds Indigenous species-at-risk efforts; Ontario fibre study shows potential for biomass facilities; BC's RCMP remove old-growth logging protest camp; Save Old Growth blockaders pledge not to obstruct traffic; and Australia's fire season is now 30% longer than 40 years ago.
Finally, the frogs will be celebrating Canada Day this long weekend. Back on the lillypad Monday!
Kelly McCloskey, Tree Frog Editor