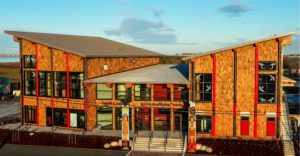 The Tsawwassen First Nation (TFN) opened the doors to their new Youth Centre in late May, and in conjunction with Dürfeld Log & Timber hosted a tour of this iconic, culturally inspired building. Although it has been in use since 2021, due to Covid restrictions this was the first tour and visit provided for non-Tsawwassen guests.
The tour began with a traditional drum song sang by Jesseca Adams, a welcoming prayer by Elder Ruth, and a historical overview of the Tsawwassen Nation by Karl Morgan.
The TFN Youth Centre showcases the results of in-depth collaboration between Dr. Nancy Mackin Architecture, AIBC, AIA and Tsawwassen First Nation leaders, youth, artists, and elders. Their goal was to design a building that truly represents the culture and history of the Tsawwassen people, while meeting the needs of the community's youth. During Covid the building was used not only as a youth centre but as a school for TFN children as well.
The TFN Youth Centre incorporates traditional and modern wood construction. The cedar log post and beam frame, combined with mass timber construction, along with the finishing were culturally guided. Tsawwassen artists Karl Morgan, Bryce Williams and team carved the welcoming house posts at the entry, and provided the stunning array of artwork – integrated into walls, floors, and ceilings throughout the building. DL&T founder Ric Dürfeld commented "We are truly building a vision of history, art, and function. This culturally guided collaboration yields values that are greater than the structure alone, and I truly believe represent our collective future."
The tour was led by Jennifer Connors – the Child and Youth Coordinator of the Tsawwassen First Nation. Participants included several members of the Tsawwassen First Nation; Dr. Nancy Mackin; Dürfeld Log & Timber (DL&T); UBC Centre for Advanced Wood Processing; BC Wood organization and TWIG (The Wood Innovation Group).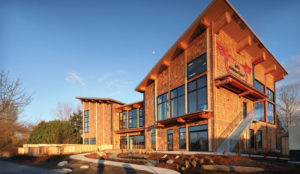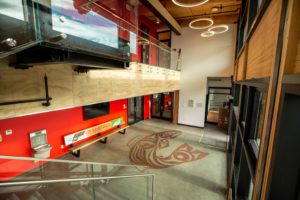 DL&T is honoured to have worked in close collaboration with Mackin Architects Ltd., Tsawwassen First Nation, Converge Construction Ltd., and StructureCraft Builders Inc. to provide the handcrafted Western Red Cedar post and beam frame for this project, as well as coordination of the prefabricated steel and mass timber components. The Tsawwassen People are known as the Cedar People and take special pride in the resulting Cedar log post and beam structure – a building that is both structural and beautiful. To see a time-lapse video of the construction of this building click here.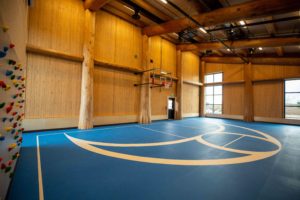 The Tsawwassen Youth Centre, Mackin Architects, and architect Dr. Nancy Mackin were awarded Sustainable Architecture and Building Magazine's "Canada Green Building Award 2021", Architectural Foundation of BC Award of Excellence 2021, as well as the 2022 "Against the Grain" Wood Design & Building Award.
Dürfeld Log & Timber is a family owned and operated business located in Williams Lake, BC, with over 40 years experience in the hand-crafted log and timber construction industry. The company is well known for its stunning resort homes in Whistler, throughout the Rocky Mountain States, and across North America. In-depth collaboration with our clients, master craftsmanship, and an emphasis on sustainability, are the three hallmarks of the work we do. We are proud to have participated in building the Tsawwassen First Nation Youth Centre and we welcome inquiries from project planners who would like to know more about our collaborative approach.
For further information:
Ric Dürfeld: 250 398 0041
Chiara Dürfeld: 250 509 2122