Friend of the Frog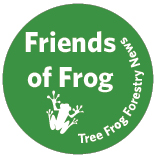 The Tree Frog News is immensely grateful to our supporters whose contributions are an important part of our success story. You make it possible for us to maintain free subscriptions for our readers.
While most companies support us through our Sponsorship Program – ensuring the longevity of our daily news service – while benefiting from the added exposure their company receives, smaller companies can also support our work through our Friends of the Frog program.
Our Friends of the Frog program gives small companies (<10 employees) and individuals a way to contribute without becoming a full sponsor. Contributions will be recognized on our website (with permission). Our levels are as follows
Individuals $100 per person
Small Company $500 (companies with <10 employees)
To become a Friend of the Frog, please complete the form below and we will send you an invoice with payment options (cheque, EFT, e-transfer).
Thank you in advance for your support!