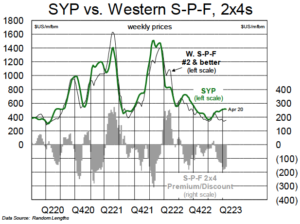 The North American lumber market broke out of its winter slump this month, with prices for several species and dimensions appearing to finally find a near-term floor around mid-month. Southern Yellow Pine (SYP) remains the standout performer—2×4 prices started trending higher at the beginning of the year and have scarcely let up since (SYP has traded at an unusually large premium to S-P-F through the first four months of the year). However, there were clear signs last week that this spread looks set to narrow through the balance of the quarter. SYP 2×4 prices slipped by $5 w/w to $515 and we believe that buyers are sitting on ample inventory, having been very active in February and March (many are now adopting a "wait and see" approach to the market). For S-P-F, 2×4 prices increased by $10 to $355 last week as the advent of spring, coupled with limited concerns of further downside price risk, saw buyers replenish inventories more readily. However, we note that S-P-F prices are still far below cash-cost levels for BC sawmills and believe a huge volume of unannounced sawmill downtime is being taken in the province (we have been surprised by the lack of sawmill downtime announcements quarter-to-date).
There has been just one noteworthy sawmill curtailment announcement in BC this month: Tolko permanently cut one shift at its Soda Creek sawmill (reducing capacity by ~100MMbf) and temporarily curtailed one shift at its Armstrong sawmill (the mill has an annual capacity of ~230MMbf). Conversely, there was some rare positive news coming from BC this month: the first load of lumber was shipped from Hampton's new sawmill in Fort St. James, BC. Hampton built the new mill on the site of the old mill it purchased from Conifex in late 2019 (along with the associated tenure). There had been very little news about the construction of the mill, and we were somewhat surprised that the project has gone ahead given challenging lumber market dynamics of late—a difficult time to ramp up a new mill, for sure.
In mid-April we attended the Council of Forest Industries' annual convention in Prince George, BC, and left with more questions than answers about the state of the industry in the province. Clearly, the BC forest products sector is in a difficult place right now: BC is the highest-cost producing region for most of the products it makes; S-P-F lumber prices are hovering near multi-year lows; pulp prices are in freefall; and mill-closure announcements (both pulp and lumber) are coming thick and fast. There are myriad forest policy initiatives being laid out by the provincial government (i.e., old-growth protection, tenure reallocation, habitat conservation, etc.), but, in trying to be all things to all people, we fear the government is getting in its own way. The biggest challenge right now is securing access to fibre. Companies have long understood that fibre supply in the province would decline this decade (chart), but certainty around how much of the dwindling resource they can access is missing; thus, meaningful investment in the BC forest products sector has gone missing also. We hear the refrains about "opportunities" and a "transition," but the fact remains that BC competes with several other states and provinces for capital. We know that fibre dynamics in these other jurisdictions are, without fail, more favourable than in BC; but perhaps the more frustrating piece from a BC perspective is that government policy (and the certainty/consistency around policy) in these other regions is far more favourable for investment as well.
Canfor's upcoming decision about whether to invest in a rebuild/modernization at its Houston, BC sawmill will be an interesting litmus test for both the government's and the industry's commitment to the province. CFP management has said they remain open to investing several hundred million dollars in the project but need a commitment from the government (perhaps via First Nations) about secure access to fibre. Time will tell if those assurances are given. For now, however, BC will keep struggling to attract investment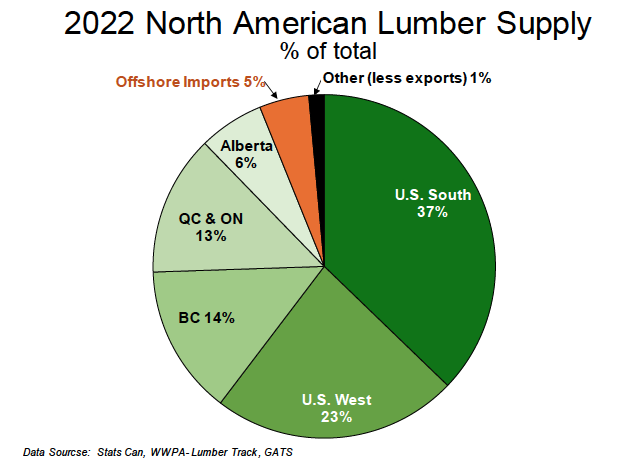 2022 North American Lumber Supply – There were some noteworthy changes in North American regional lumber supply last year, and trends that had been slowly developing over the past 5‒10 years accelerated meaningfully. In BC, lumber production slumped to a low of just 7.9Bsf, roughly half the peak output recorded in the province in 2007 (prior to the GFC). We expect BC lumber production to decline further (to less than 7Bbf) in 2023. Elsewhere in Canada, on an LTM basis, combined Quebec and Ontario production (~2.0B and ~6.8Bbf, respectively) now marginally exceeds BC's output. Supply from both provinces has been much more stable than in BC in recent years, with only marginal declines (and few closures).
Looking to the U.S., the South has been the only region in North America to see supply rise significantly in recent years. With billions of dollars of capital injected into the region over the past five years, this was anticipated. Southern lumber production reached an all-time high of 22.2Bbf in 2022, up 6% y/y. We anticipate continued, mid-single-digit growth in 2023 and 2024. In the U.S. West, lumber output totalled 13.8Bbf last year, a decrease of 6% versus 2021. Given fibre-supply challenges and a lack of new investment in the region, we forecast flat to modestly lower supply from the region in 2023 and 2024.
Finally, growth in offshore import volumes has clearly contributed to oversupply in the North American lumber market today. On a trailing 12-month basis, offshore imports peaked at 2.3Bbf in January of this year. We anticipate that these volumes will start to retreat in the coming months given weaker North American market conditions; lead times for European shippers can be as long as three months, so lumber arriving in the U.S. in January would have been earmarked for export long before S-P-F prices slumped to multi-year lows around the turn of the year.