US housing data were a mixed bag for September; a modest month-over-month recovery in seasonally adjusted starts (to 1.36MM units) and an uptick in new-home sales were the bright spots, but existing-home sales have capitulated and sentiment around housing remains highly negative (driven primarily by worsening affordability).
Looking first at both starts and permits, there has been a bifurcation of the single-family (SF) and multifamily (MF) markets, with SF construction activity showing signs of modest improvement (+3% m/m, +9% y/y at 963,000 starts for September) while MF activity has slowed dramatically (+18% m/m but down 31% y/y at 395,000 last month). Permitting data followed a similar trend last month, totalling 1.47MM, with singles ticking up ~2% m/m 965,000 while multis slipped from 593,000 in August to 508,000 in September. The US South has led the recovery in single-family homebuilding year-to-date (U.S. South SF starts are down just 9% y/y, versus a U.S.-wide decline of 14%); looking at permitting data, the trend looks set to continue. Year to date, U.S. South seasonally adjusted SF permits are off by just 12%, versus a total U.S. decline of 15%, with year-to-date SF permit numbers for the Northeast, Midwest and West down by between 16% and 21%.
Existing-home sales declined to their lowest level in almost 13 years (to a seasonally adjusted 3.96MM units) as mortgage rates at 20+-year highs continue to keep prospective sellers out of the market (who wants to give up mortgage rates multiple percentage points below current market levels?). New-home sales stepped in to partially fill the gap, increasing by 12% m/m and fully 34% y/y at a seasonally adjusted 759,000 units, the highest monthly total reported since February 2022. Homebuilders continue to find ways (rate buy-downs, smaller home footprints, appliance upgrades, etc.) to keep selling despite extremely challenging macroeconomic conditions!"
Finally, the NAHB/Wells Fargo Housing Market Index (HMI), which measures single-family homebuilder market sentiment, also slipped to 40 last month from a downward-revised reading of 44 in August (chart right). We expect a similarly grim reading when Q3/23 Housing Opportunity Index data are released on November 9.
It's been a rocky ride for US housing in 2023, but challenges in the US pale in comparison to other major global housing markets:
The situation in China is positively dire. Year-to-date through September, residential floor space started is off by 21%, and this comes on the heels of a 33% y/y decline in floor space started in 2022.
In Japan, declines in residential construction activity have been less stark than in China, with total starts off ~4% year-to-date and wood-based starts down ~5% compared to the first nine months of 2022.
Finally, Canadian housing starts have held up better than in the US, with total starts slipping by 8% year-to-date; however, the more wood- intensive single-family sector is off by fully ~30%, versus a decline of just ~14% in the U.S. market.
Takeaways:
The North American lumber market remains stuck in the mud. S-P-F 2x4s are trading at $370 today, levels at which many BC mills will be losing money. SYP 2x4s are holding up a little bit better at $402, but SYP 2x6s and 2x8s are trading below $300. Lumber demand continues to be hampered by an affordability-driven slowdown in residential construction activity. Reports on demand from the repair and remodel sector are mixed, but some softening is expected in the quarters ahead. We anticipate that lumber prices will remain rangebound around current levels through the winter (with more upside for S-P-F than SYP).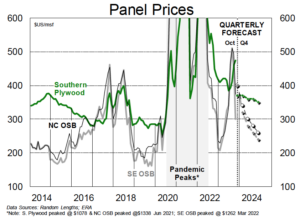 After several weeks of declines, OSB prices did an about-face in mid-October and have posted modest increases over the past two weeks. NC 7/16″" is trading at $380 today, down from a peak of $510 in September. OSB 7/16″ is trading between $310 and $335 in the other producing regions. Over the medium-term, price risk is downside-weighted given challenges in U.S. housing (including seasonally weaker demand in Q4) and a raft of new supply coming to market. Plywood prices have slipped but remain elevated by historical standards. The recent upturn in OSB prices should support plywood in the near-term.