Kicking off Day 2 of the Truck Logger Association's panels on the BC government's efforts to modernize forest policy was David Muter, ADM, Resource Stewardship Division, BC Ministry of Forests. Speaking to government's reasoning behind the old growth deferrals, Muter noted:
The consistency in feedback that the current management regime is not meeting expectations or stated public objectives.
The fact that there are areas where the failure to act right away can lead to irreversible loss of biodiversity.
The fact that some of the areas are key to species at risk, First Nation cultural issues, aquatic habitat or other biodiversity interests.
The fact that restoration activities to rehabilitate habitat are very expensive and if done naturally, can take centuries.
According to Muter, "putting a temporary pause in place on priority old growth areas—identified by the Technical Advisory appointed by government—provides the time and space to better understand what old growth we have left and how best to manage it." Although the Technical Committee operated independent of government, Muter noted that "Ministry experts worked closely with the committee so as to understand the basis of their technical work and its credibility."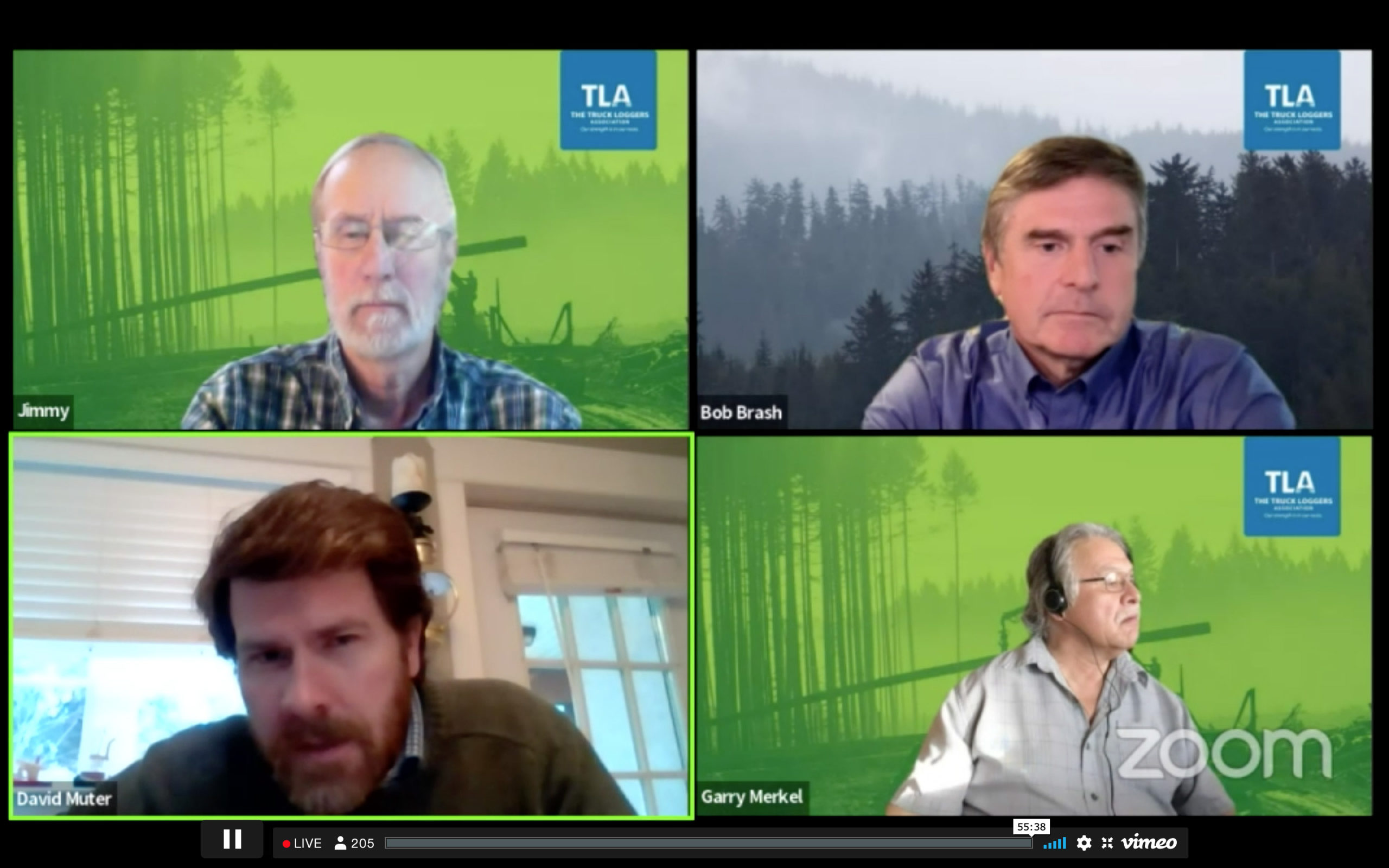 With respect to how the government's commitment to First Nations is progressing, Muter said that, "some Nations feel confident in their current management regime (usually because of their deep partnerships with industry) and said they may not need deferrals. Some Nations said they need more time and others see the need for deferrals and want to proceed." With respect to that latter—where there is not already an established partnership with industry—Muter said the Ministry intends to talk with industry and the impacted communities on how best to implement the deferrals to determine if they have the right data, or if there is a better way forward with fewer socio-economic impacts. Speaking to the future, Muter noted that the roadmap forward is "pretty much as laid out in the Gorley/Merkel recommendations, and the deferrals will provide time to build a new system where ecosystem health is a priority, providing security for biodiversity loss."
Next up was Gary Merkel, co-chair of the Old Growth Review Panel, who spoke to his and Al Gorley's work preparing the strategic review on old growth—the 14 recommendations from which were adopted by government. Speaking to some of the thinking behind the recommendations, Merkel noted the many ongoing policy initiatives that point to the need for ecosystem health, stable governance and a stable society/economy. According to Merkel, "there was an incredible amount of alignment from all sectors on the idea that we need to change the system. Managing for timber subject-to-constraints is a model that isn't working for anybody. And many of the recommendations in our report recognize that society is undergoing a paradigm shift, and public policy related to forest management will need to adapt according."
Merkel spoke to the importance of thinking beyond trees to the larger landscape level and the risk of biodiversity loss. "If you remove too much of a functioning ecosystem, you lose biodiversity. If you retain 70% you may have no material effect. But if you have 30% or less left, you risk the loss of species such as caribou and moose, changes to hydrological cycles, etc." In closing, Merkel said, "this is transformative change that requires a paradigm shift in how we think about our forests. It will take time and the transition period is the hard part, but the end result is a very positive future for all of us. Importantly, it requires all of us working together, not a top down effort."
The final speaker, Jim Girvan, principal at MDT Management Decision Technology, chose not to focus on the government's decision to defer old growth, but rather—in the event that the deferrals become permanent—would identify some of the winners and losers. Although Girvan said he was open to being corrected, he said he was "not aware of any temporary government forest land deferral that has ever come back into the working forests during his career." His list of losers and winners include:
Losers
BC Forest Industry –14 mill closures, two of which have already happened
Carbon Sequestration – young forests have a higher net carbon capture rate
Value added – impacted by the loss of fibre and the primaries who supply it
ABCFP – members interest, given infringements on the practice of forestry
Caribou Populations – overlooked by a lack of inclusion in the deferrals
Rural Communities – 18,000 jobs lost, often the main or only employer in town
Public Funds – $288 million lost annually, equates to 3,800 elementary teachers
First Nations Forestry Council – reduced opportunity to participate in the sector
Industry brand – forestry looks unsustainable, despite certification leadership
Public Services – loss of revenue to support the growing demand for services
Jim Girvan – fewer resources for health care, including "hip replacements"
Winners
Mainstream Media – sustained the false claim that only 3% of old growth remains
Minister George Heyman – more reduction than as head of the Sierra Club
Sierra Club and ENGOs – provided forestry advice for a fee, but not RPFs
Ritchie Bros & ForesTech – can sell contractor equipment no longer needed in BC
US South – investment dollars will continue to flow to lower cost jurisdictions
US Timber Lobby –lumber reductions means less competition and higher prices
Vancouver Log Market – the lower harvest will increase the value of logs
Ecotourism Industry – fewer cutblocks means less complaints
Check back on Monday for our summary of TLA's final panel, which includes:
Stewar Muir on why industry should adopt ENGO "swarm government" strategy
Brian Menzies on the value-added challenge of transitioning to second growth
Don Wright on why industry lost its social licence and how it can get it back
Bob Brash on the TLA's proposed solution for a win-win path forward